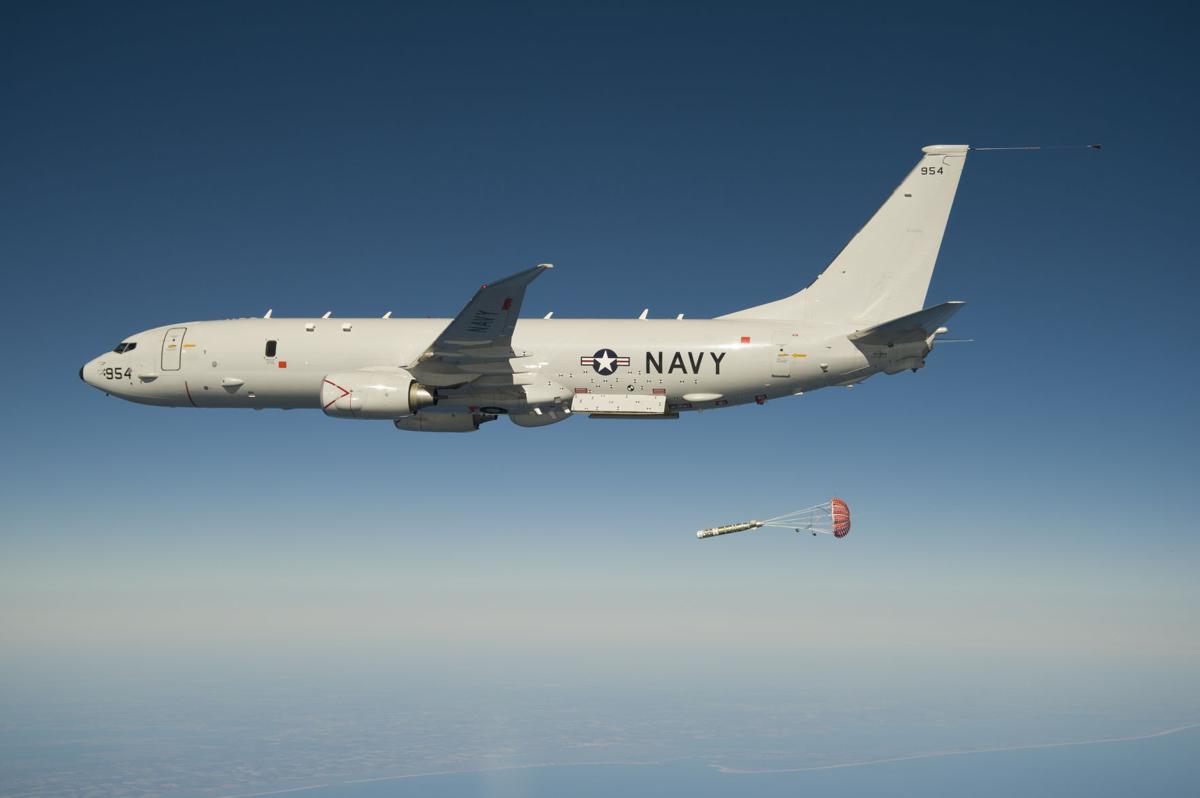 The P-8A flying with a pitot-static element on an instrumented aircraft. The element is used for collecting flight data, such as air speed and altitude, while performing routine testing.
U.S. Navy photo by Liz Wolter
P-8A Poseidon, MQ-4C Triton: New force multipliers explained
Today, we are seeing a renewed interest in airborne anti-submarine warfare and in the underwater domain, said Rear Adm. William "Trey" Wheeler III, the U.S. Navy's commander of the operations group and commander of the operations group Pacific, during the recent panel discussion, "Poseidon and Triton: Welcome to the Family. " Wheeler said no one, including our competitors, are producing high numbers of submarines, but what they are producing is impressive.
"The P-3C Orion, which I believe has been in the fleet since 1962, has been doing great work for us for a long time," Wheeler said, preempting his discussion of the replacement aircraft, the P-8A Poseidon. "The Navy really invested in the P-8A to do that traditional role of anti-submarine warfare. So, it's built to accomplish that mission and it's doing a tremendous job."
New to the fleet, the P-8A Poseidon is equipped to support unmanned aircraft systems, such as the MQ-4C Triton when performing certain operations and missions. The P-8A has broad-area acoustics and underwater search capabilities.
During a Sept. 21 event, speakers highlighted recent program successes, while also updating industry and community interest groups on maritime patrol and reconnaissance initiatives at Naval Air Station Patuxent River. The Patuxent Partnership and the Association of Naval Aviation's Squadron #18 hosted the event at the Bay District Volunteer Fire Department. It was chaired and moderated by Wheeler.
"My portfolio is maritime patrol and reconnaissance," Wheeler said. "It's P-3, EP-3, P-8A Poseidon, and then soon, the MQ-4C Triton."
Other panelists included Angie Knappenberger, deputy director of air warfare; Capt. Dan Mackin, program manager for persistent maritime unmanned aircraft systems Triton; Air Commodore Gary Martin, air attaché at the Embassy of Australia; Capt. Tony Rossi, major program manager for the maritime patrol and reconnaissance aircraft P-3 Orion and the P-8A Poseidon; and Rear Adm. Paul Soul, the commander of the operational test and evaluation force at Norfolk, Va.
The discussions highlighted recent acquisitions, future plans, teamwork, partnership and data-sharing.
"We are getting to the end of the 737 Next Generation production line, which is really at the end of our ability to go out and buy a P-8A aircraft at a reasonable cost," said Rossi. "We're going to have to make sure we buy all the P-8As we're ever going to need. "It really is about figuring out what the right number of P-8As is, and getting them in the buy over the next few years at an affordable and sustainable rate and without a production break."
Currently the program is budgeted for 111 aircraft.
The Australians signed on early. The Navy proactively pursued a cooperative partnership with Australia, as well as foreign military sales opportunities to create cost-sharing and cost-savings, while also optimizing production and efficiencies.
"Why cooperative programs?" asked Martin. "How good is it getting in at the first door?"
"To understand the coding behind those weapons systems and to actually influence it in a PACOM [Pacific Command] area and speaking American English," said Martin. "To understand from not just an Australian area of interest, but a world area of interest, and to be helping our people here at Pax River and back in our laboratories in Australia in designing software and going ahead."
It's about interoperability, he said.
Knappenberger discussed budget implications of divestment from legacy aircraft. "We asked ourselves, can we do this a little bit faster? Can we do this a little bit smarter? Can we save a little money by doing some of these [aircraft divestments] differently?" said Knappenberger. "[For the Martime Patrol Reconnaissance Aircraft community and the consideration of P-3 retirement], it was a rock solid plan already."
Knappenberger also talked about building [program funding] advocates during budget development, and allowing one of its customers, submariners, to weigh in on the success of the P-8A. She said each domain, air and surface, relies on customer feedback to fuel the capabilities, and funding process.
"It just warmed my heart to hear the submariners touting the capabilities of a P-8. That was awesome. It really was," she said. "What it brought home was somebody else's assessment of how N-98 [resource managers] had structured and funded programs to look and see if that was the best way to do it."
Knappenberger and the resource management team were looking for completeness in their financing strategy, and wondered how they could deliver the capabilities to the fleet during the prescribed timeframe, she said.
"I think the domain assessment was a success story, "she said. "We're going to try to implement that again in future planning."
The strategy was to build a network of systems, while saving money and reinvesting savings, she said.
"This family of systems is starting to get very real," said Mackin. "Triton was recently approved for low-rate initial production, and will deliver two aircraft for early operational employment at Point Mugu in spring 2018."
"This platform [MQ-4C Triton] is positioned to be a force multiplier. It will provide a persistent stare across the globe," Mackin continued. " "The men and women , those providing support to these platforms [Triton and the P-8A Poseidon], will be assisting with necessary intelligence, surveillance, and reconnaissance (ISR), disaster relief and humanitarian operations aiding both the tactical and strategic warfighter."
By combining the capabilities of the P-8A and the unmanned MQ-4C there is greater ISR coverage. By using the Triton, it allows the P-8A to focus on tactically relevant areas of need, officials agree.
"It's the teaming part that is exciting for me," said Wheeler. "When I can take a Triton and put it up 50,000 feet, and stay there for a full day," he said…"and have that [no kidding] persistent stare, and offload that maritime ISR mission from that manned airplane to allow it to go do other things."
That's the future of where the Navy is going, he said.
There are currently 61 P-8A Poseidon in service. Next year, the air-to-air refueling is expected to expand its range and capabilities. While, the MQ-4C Triton has three test aircraft and has surpassed 1,000 flight test hours, and is budgeted for a total of 68 aircraft over the program's lifecycle.
"Today you see a P-3 flying alongside an EP-3 alongside a P-8A. A couple years from now, when you go out, you'll see a P-8 flying alongside an MQ-4C Triton," said Rossi. "They are going to be beating the bushes... making sure everyone has a good coherent maritime picture."