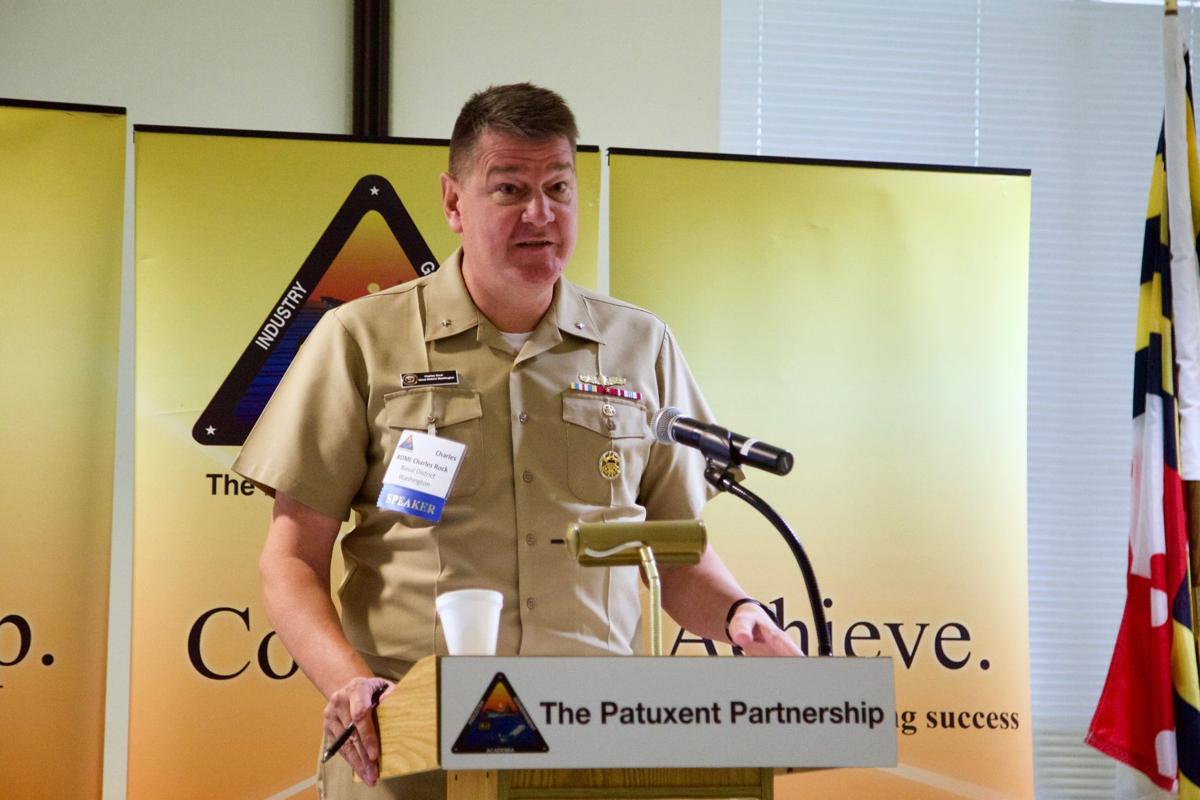 Rear Adm. Charles Rock speaks about Navy readiness and traffic issue Wednesday morning during an event hosted by The Patuxent Partnership at the Southern Maryland Higher Education Center in California. STAFF PHOTO BY DANDAN ZOU
In an event hosted by The Patuxent Partnership on Wednesday morning at the Southern Maryland Higher Education Center, Rear Adm. Charles Rock, commandant of Naval District Washington, talked about the Navy's readiness, as well as traffic issues in the county.
To set the scene of where the Navy is today, Rock borrowed an analogy from Adm. John Richardson, chief of naval operations, to describe the challenges the Navy faces.
"He describes it as a football game that starts at the end of the Cold War, if you will," Rock said. Thirty years later into halftime, "we are winning 35-0. Everybody was happy."
As everybody was sitting around in the locker room, cheering and drinking Gatorade, he said, someone came rushing in and said the third quarter had started. The team went back to the field to find the score to be 35-28, not knowing what happened.
After the Soviet Navy went away, "we didn't have any competition," Rock said. "Our friends in China really weren't coming on the scene in terms of being a global power, even a regional power."
What happened next is waking up 30 years later, realizing that "essentially we were asleep at the switch," he said.
Right now the Navy is comprised of about 274 ships and 320,000 sailors, and Rock said studies inside and outside of the Navy have indicated the right size would be about 350 to 355 ships.
"The requirements certainly outpace the Navy's resources and ability to meet those requirements," he said. "And they manifest themselves in many ways," including on the backs of sailors and civilians who are stressed to try to keep up, and in readiness challenges.
Noting the Navy is bringing 10 dead sailors from Singapore home, Rock said he doesn't "want to make the direct connection to readiness and underfunding to what's happening, because we just don't know."
On Aug. 21, 10 sailors on the USS John S. McCain guided-missile destroyer died in a collision with an oil tanker near Singapore — the fourth accident the Navy has had in the Pacific this year.
But "we got some real challenges," Rock said.
Later, one of the questions brought up by several attendees is how Patuxent River Naval Air Station intends to help address the traffic problem in the county.
"In terms of the impact on the community as a civilian, I can tell you that I cannot leave my home between 3 and 6 p.m. to get anywhere because of the traffic, and that's a common concern around here," said Marcia Greenberg, who lives in St. Mary's City. "It's really just created such bottlenecks that it's becoming a source of tension and irritation."
Greenberg suggested looking into possibilities like car-sharing platforms and getting lessons from other areas that could apply locally.
Others asked if the Navy is willing to help local and state governments to develop mass transit in the area, or come up with incentives that could lessen traffic flows coming in and out of the base.
In response, Rock said he is open to suggestions and doesn't want to take any discussions off the table.
"The source of the bottlenecking and transportation challenges is the Navy, so I think the Navy's got to be a part of that solution, part of that discussion," and initiating that dialogue, he said, noting the community has his commitment to help minimize the inconvenience for folks who are going about their daily lives.
One potential solution could be tied to a question Todd Morgan, a St. Mary's County commissioner, raised on shared services.
Morgan (R) asked for Rock's opinion on shared services and how much the Navy would be willing to support those shared service programs.
"That's exactly where we need to go. Exactly. I just don't know how to figure it out," Rock answered.
He said potential partnerships with local municipalities and businesses could provide important, but not inherently governmental, services like child care, chapels, gyms and housing.
"To your point on shared facilities, I'm not sure why I'm in the business of owning and maintaining buildings," he said. "So there is a better way. I just don't know how to get after it in a meaningful way."
Rock was also asked about ways to enhance the county's preparedness for the federal base realignment and closure process, known as BRAC. Since 2005, there hasn't been a BRAC.
"I don't have any BRAC-proof secrets," Rock said. "Of course, you know BRAC is not currently on the table."
His advice was to "keep doing what you do" to build a link between the base and the community so tight that pulling away would make a significant impact.
Considering Pax River's history, Rock said he thinks the base is in a strong position.